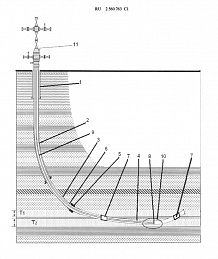 The invention relates to the field of gas industry and can be used in the development of hard-to-recover gas deposits.
The objective of the invention is to increase the efficiency of the development of hard-to-recover gas reserves at fields, deposits of which are represented by unconsolidated, mudded reservoirs with high residual water saturation and low reservoir properties.
The technical result from the application of the proposed method is to ensure the preservation of the primary parameters of the reservoir in the drilling process, increase productivity, as well as the use of design characteristics of the well and the reservoir powers to ensure the removal of condensation fluid accumulating at the bottom of the wells during their operation.