News
OJSC Severneftegazprom and Krasnoselkupsky District Signed a Cooperation Agreement for the Year 2017
Back to news
On March 2, 2017, Vladimir Dmitruk, Director General of OJSC Severneftegazprom, and Vasily Parshakov, Head of Krasnoselkupsky District, signed another cooperation agreement.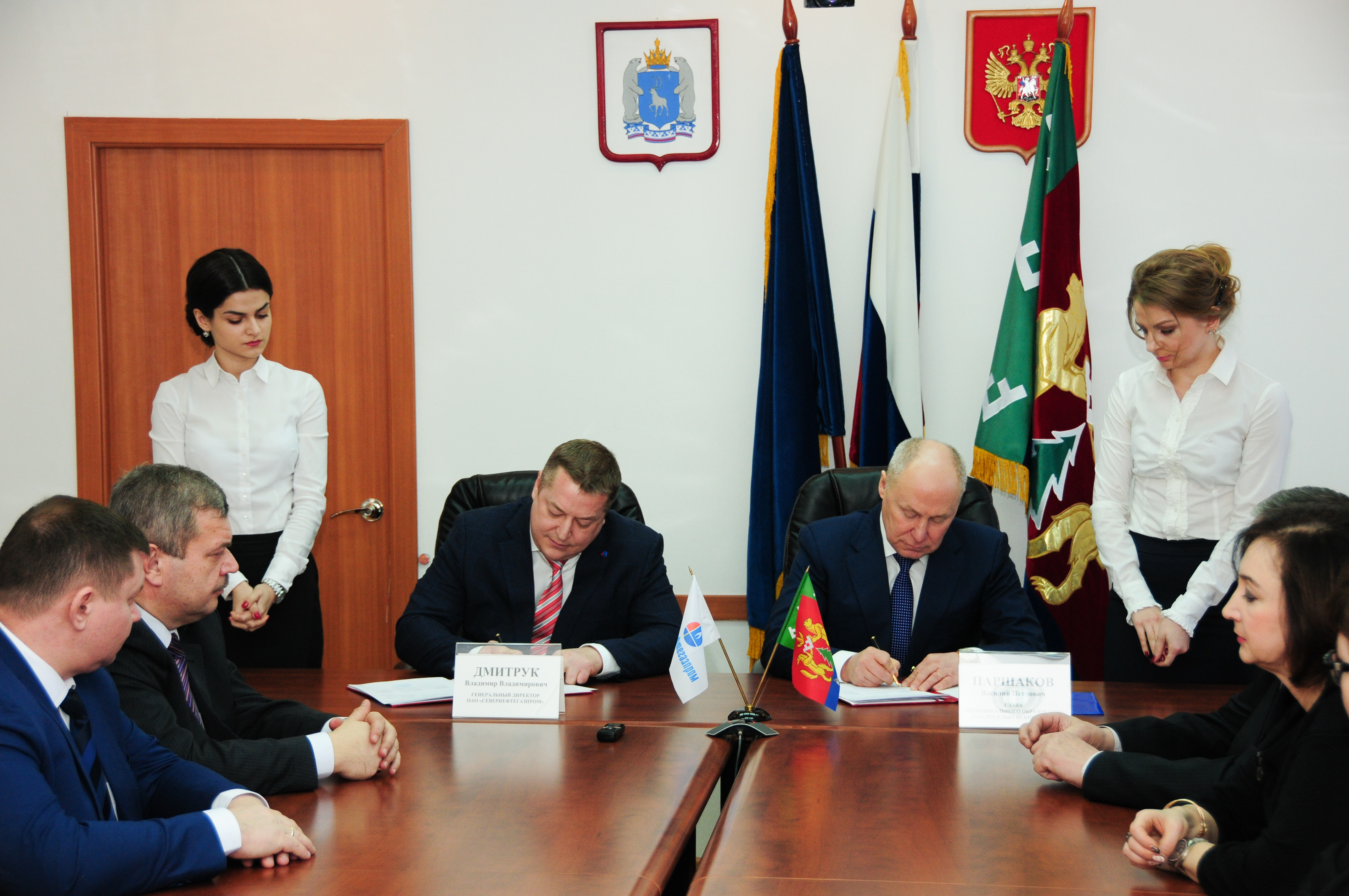 Click to enlarge a photo (2 MB)
This agreement is an efficient instrument that enables implementation of the regional social responsibility strategy of the Company and ensures fruitful cooperation with the Administration of Krasnoselkupsky District, in the territory where the key project of OJSC Severneftegazprom - Yuzhno-Russkoye oil and gas condensate field - is located.
The agreement defines the scope of financing that will be provided by the gas-producing company to support a wide range of events related to social and economic development of the district in 2017.
The money in amount of 35 million rubles will be allocated by Severneftegazprom to support agricultural and fishing companies of Krasnoselkupsky District, implement municipal programs, and upgrade kindergarten, school, cultural, sports, and youth policy facilities.
Another cooperation priority of OJSC Severneftegazprom is to support Yamal indigenous peoples and preserve their customs and cultural traditions.
In pursuing these objectives Severneftegazprom will financially support the activities of the social movement of Krasnoselkupsky District - Association of Indigenous Small-Numbered Peoples of the North of Yamal-Nenets Autonomous Region "Yamal for Descendants!" - and will actively participate in organization of such folk holidays as Reindeer Herder's Day and Fisher's Day in different settlements of Krasnoselkupsky District.
As noted by Vladimir Dmitruk, Director General of Severneftegazprom, "By extracting gas from subsoil of Yuzhno-Russkoye field and conducting other business operations at Krasnoselkupsky District, Severneftegazprom contributes to creation of favorable conditions for development of this municipal unit. The events envisaged by the 2017 agreement are the best evidence of our social involvement, commitment to human values, and an effort to support local residents."
Vasily Parshakov, Head of Krasnoselkupsky District, in turn, emphasized that the liaising between the Company and the municipal unit was improving, and thanked OJSC Severneftegazprom for the long-term and effective partnership.